Build Your Custom Ukulele

Size &
Shape
Wood
Bindings, Rosette &
Side Sound Port
Fretboard,
Neck & Bridge
Headplate
& Tuners
Finish
Pickup
Final Details
Please select a
size & shape

Soprano

($1450)

Super Soprano

($1500)

Concert

($1550)

Tenor

($1650)

Tenor Long Neck

($1700)

Baritone

$(1800)
Standard Bundle

Mahogany neck/Ebony fretboard & bridgetie block

The traditional choice for necks is Mahogany, which we have used since we began.

Our standard fretboard has been Ebony. It has been the proven choice for fretboards due to its density (stiffness), durability (resistance to wear) and color (the near black color doesn't show marks).

Our standard bridge has been Rosewood or Ebony (we are now just using Ebony). They are the proven choice for bridges due to their density.

Cascade Series Bundle

PO Cedar neck/Maple fretboard & bridgetie block

We are now offering (no additional cost) a Port Orford Cedar (POC) neck, also reinforced with a carbon fiber rod. It is also lighter weight, and it is a softer wood that can be scarred more easily.

Bird's Eye Maple is our alternative offering for fretboards. It is quite dense and durable, and has been used successfully on many of Fender's electric guitars for years.

Maple is the bridge we use in our Cascade Series bundle. It is quite dense and we believe will perform very well as a bridge.
| | |
| --- | --- |
| Headplate | |

Leopardwood & Maple (our standard)

Ebony & Maple (high contrast)

Leopardwood & Cherry (low contrast)

Walnut & Maple

Solid wood to match (no logo) body rim ($50)

Custom Signature Headplate
incorporating your body rim wood ($50)

| | |
| --- | --- |
| Tuners | |

Machine Tuners w/Amber Buttons

Machine Tuners w/Black Buttons

Gotoh UPT 4:1 Tuners ($50)

Peghed Geared 4:1 Tuners ($50)($150)

Slotted Headstock w/Schertler Tuners ($150)

Slotted Headstock with Rubner Tuners ($150)
Hand-Rubbed Oil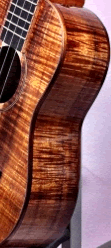 The premium oil finish offers superior acoustics and playability. This finish is so thin and light that it has very little acoustic impact. And, it's silky smoothness yields a very fast-playing neck.
After hand sanding to 600 grit, I apply 4 hand-rubbed coats of Tru-Oil sanding with 0000 steel wool in between each coat. I then apply lemon oil to the instrument.
The hand rubbed oil finish is currently my only finish option and is preferred due to it's satiny luster and it's preservation of the instrument's tonal quality.
Electronic Pickup:
No pickup - endpin included
K&K Twin Spot passive ($150)
This pickup does an excellent job of representing the acoustics of the instrument. In addition, it has no on-board electronics so it is lightweight and very durable. The transducers are two discs that mount inside the body under the bridge plate.
| | |
| --- | --- |
| MiSi ($200) | MiSi w/Volume Control ($250) |
The MiSi is an active pickup that utilizes a proprietary charging technology that obviates the need for an on-board battery. They come with a small wall-charger which provides for 8-hours of playing time with a 60-second recharge time. The transducer is an L.R. Baggs under-saddle piezo-electric pickup.
L.R. Baggs Five.O ($250)
This is an active pickup, using a small "coin" battery to power it. The transducer is an under-saddle piezo-electric, and the pickup comes with a volume control wheel which mounts just inside the soundwell. Because it has a battery, it is slightly heavier than the MiSi pickup.
About Pickups
Our preferred pickup is the K&K Twin Spot ($150). It does a great job of accurately representing the acoustics of the instrument. In addition, it is lightweight with no on-board electronics to worry about. We currently offer 5 pickup choices. They all vary in terms of:
active vs. passive -- passive pickups are lighter & have no on-board electronics; active pickups have the option of on-board volume control
transducer -- the 'transducer' is the part of the pickup that converts sound or movement into an electrical signal
on-board volume -- some pickups offer a small volume wheel that mounts inside the soundhole
size/weight -- active pickups are heavier, and adding volume control also adds weight
Strings

We use Worth brand clear fluorocarbon strings.

Please indicate your preferred 4th string:

High G (re-entrant)

Wound Low G (D'addario silver wound nylon)

(A fluorocarbon low-G available upon request, though the wound string is recommend if a low-g is selected)

Lap Steels are strung with a custom set of D'Addario steel strings.

Please indicate your preferred tuning:

Open G

Open C

Neck Options

1 3/8" is the standard width of the neck at the nut, however you can choose a wide neck, 1 1/2" at the nut, if you prefer.

Standard Nut Width (1 3/8")




Wide Nut Width (1 1/2", no charge))




Shipping

Please choose the shipping method that applies:

US (FedEx ground, FREE)




Canada (FedEx ground, $60)




Overseas (FedEx International, $110)




Pickup in person (Also Free)

*Note: International Buyers are responsible for any import/customs duties


Cascade Series Special Option

Congratulations! Your current configuration includes all Cascade Series woods.
We will have a tree planted in your honor.

The following option is also available:

Add inlay at 5th fret (+$100)

Denotes Cascade Series Woods
| | |
| --- | --- |
| | $ |
If you order today, your instrument is projected to finish:
Jun 3, 2024